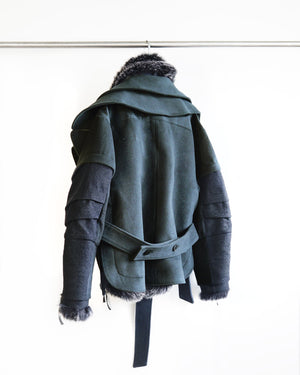 ROSEN Prototype Earhart Aviator in Wool Cashmere Sz 2 (On Hold)
The Earhart - a cross between a samurai armour and an aviator's flight jacket - is designed to be a protective, sturdy outerwear with its oversized silhouette and robust fabric; constructed with double-layered collar, double-layered lapel, and an extra-long waist belt.

This prototype is made out of heavyweight wool cashmere, extremely plush and soft. Due to its weight, it may not be suitable for frequent or prolonged wear, more notably on smaller frames. This garment could be repurposed or used as a study piece. The fur collar is detachable.
---
Colour: Teal - Grey
Material: Wool Cashmere
Condition: Unworn

Size: 2, fits 38-42 chest, height 168-178cm/5'6-5'10
Shoulder: 22"/56cm
Chest: 23"/58.5cm
Sleeve: 24"/61cm
Length: 29"/74cm